Our door to central Europe opened Krakow in Poland. This royal city is perfect for romantic walk and interesting for younger tourists. Believe me, if you visit Krakow you won't regret and the memories will stay with you for ever.
Krakow attractions around the Main Square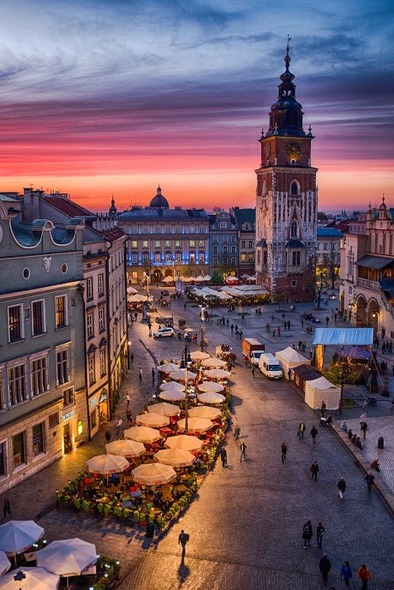 If you won't take picture in ,,head", won't enter Mariacki Church and pass Sukiennice without buying a souvenir in there. And, of course, don't forget to buy an ,,obwarzanek"– braided ring-shaped bread that is boiled and sprinkled with salt, poppy seeds, sesame seeds.
Did you know that there is an underground museum in Krakow Main Square? We were there and it was seriously like stepping back in time. Exhibition presents original findings from the city, which helps to reconstruct how the city looked like hundreds years ago. Later on we had a coffee ( and two hot chocolates) in vinted lovely cafe inside Sukiennice. We had a concert of a piano man, who usually entertains guests with his music.
We also entered archaeological museum, the oldest archaeological institution in Poland, located just 5 minutes walking from the Main Square. There are many archaeological findings and reconstruction the period from the Paleolithic Age to the modern times. Not only from those lands, but also from Egypt! I think it's really interesting place for both adults and children. t
Wawel Castle in Krakow
If you visit Krakow, you can't miss Wawel Castle. I was not aware that I will meet Lady with an Ermine, Leonardo da Vinci's masterpiece in Krakow! Wawel was a headquarter of polish kings in medieval ages. A place of  coronations of monarchs and their burials. Now their bodies lie down in catacombs in cathedral build near the castle.
Royal chambers, wide range of weapons, pieces of furniture, everyday use objects… I recommend to everyone! And the views… Wisla River, lovely boats rocking slowly on the water… And, down the Wawel Hill… The dragon! Yes, Wawel Dragon, huge beast which breathes the fire. If you wish, you can also enter the cave of the dragon, his house. Children's satisfaction guaranteed.
Visit Auchwitz- Birkenau Concentration Camps
Auschwitz Concentration Camps are located around 60 km from Krakow.  We have decided to leave our kids in Krakow, because it's advised not to enter witch children under 14 years. And I'm sure it was  a good idea because I broke down in the museum because of cruelty which happened in there. The trip took around 6 hours.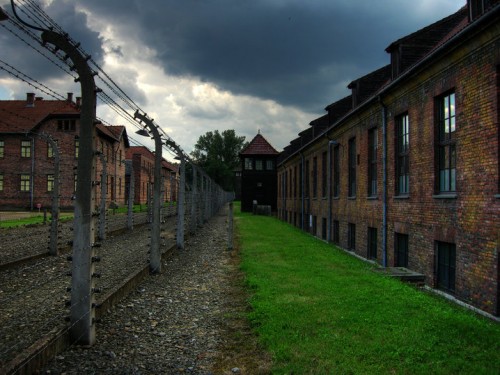 Our children had chocolate workshops and entrance to children's' park. We have booked a trip to Auschwitz with Krakow Direct company, which took us from our hotel to our destination. In Auschwitz a guide led us to the camp. In my opinion, if you visit Krakow, you should take an Auschwitz tour.
Articles or movies about Death Camps are nothing, comparing to Auschwitz Museum. It was the strongest experience during our travel. I'm glad that people from all over the world are visiting this Nazi Fabric of Death. And I hope it will be a warning for everyone where homophobia leads to.